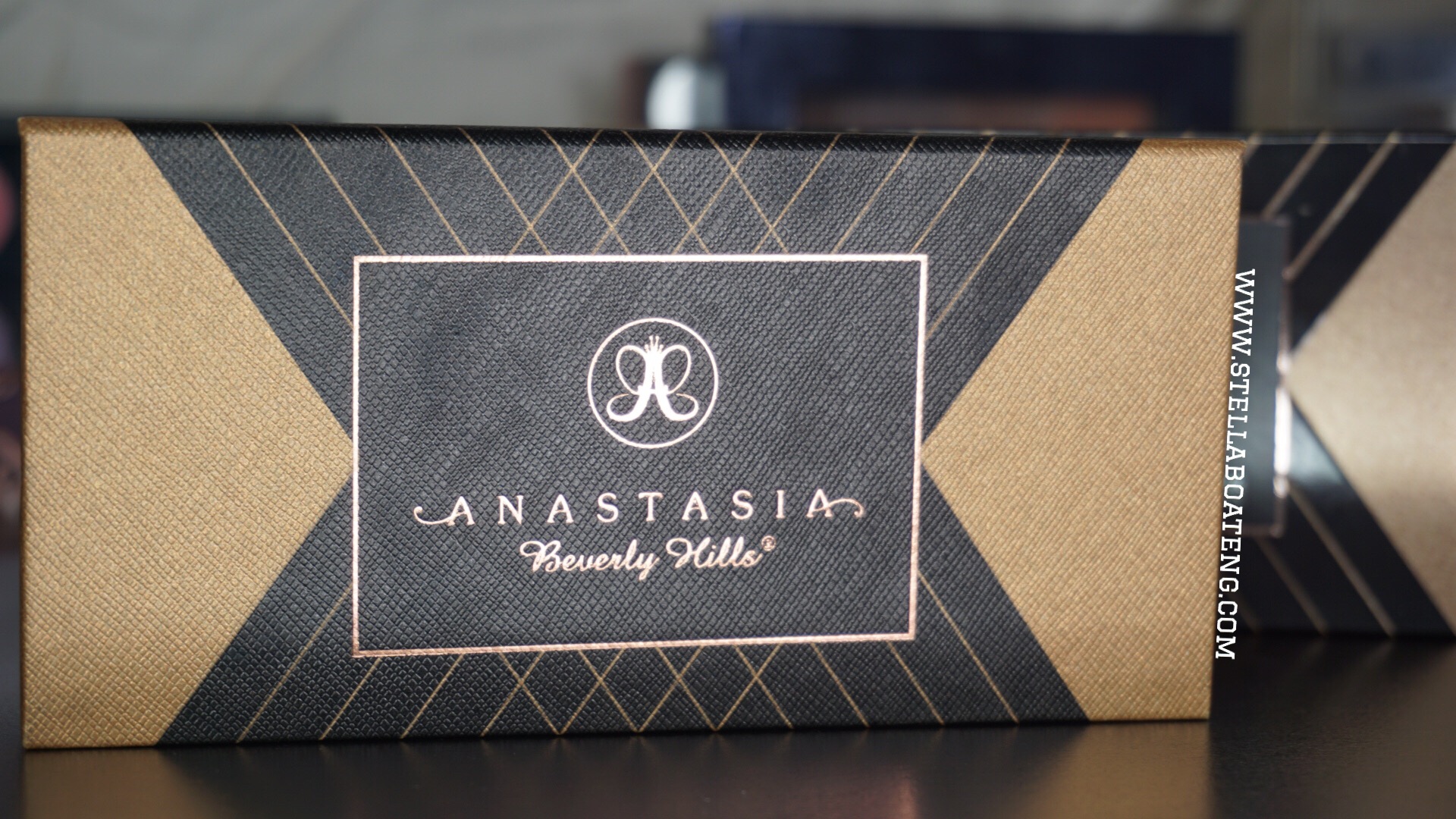 Hey Everyone!
Today I will be reviewing the recently released Anastasia Beverly Hills Shadow Couture | World Traveler Palette. As a lover of Anastasia's palettes, I was very excited to see this style of packaging from the brand. The packaging of the World Traveller palette in my opinion is the best from  Anastasia since their Lavish Palette in 2013 (not including their collaboration palettes), this palette is very aesthetically appealing. The simplicity, attention to detail and texture of the palettes' outer core makes the palette an eye catching, yet solid addition to any eyeshadow collection.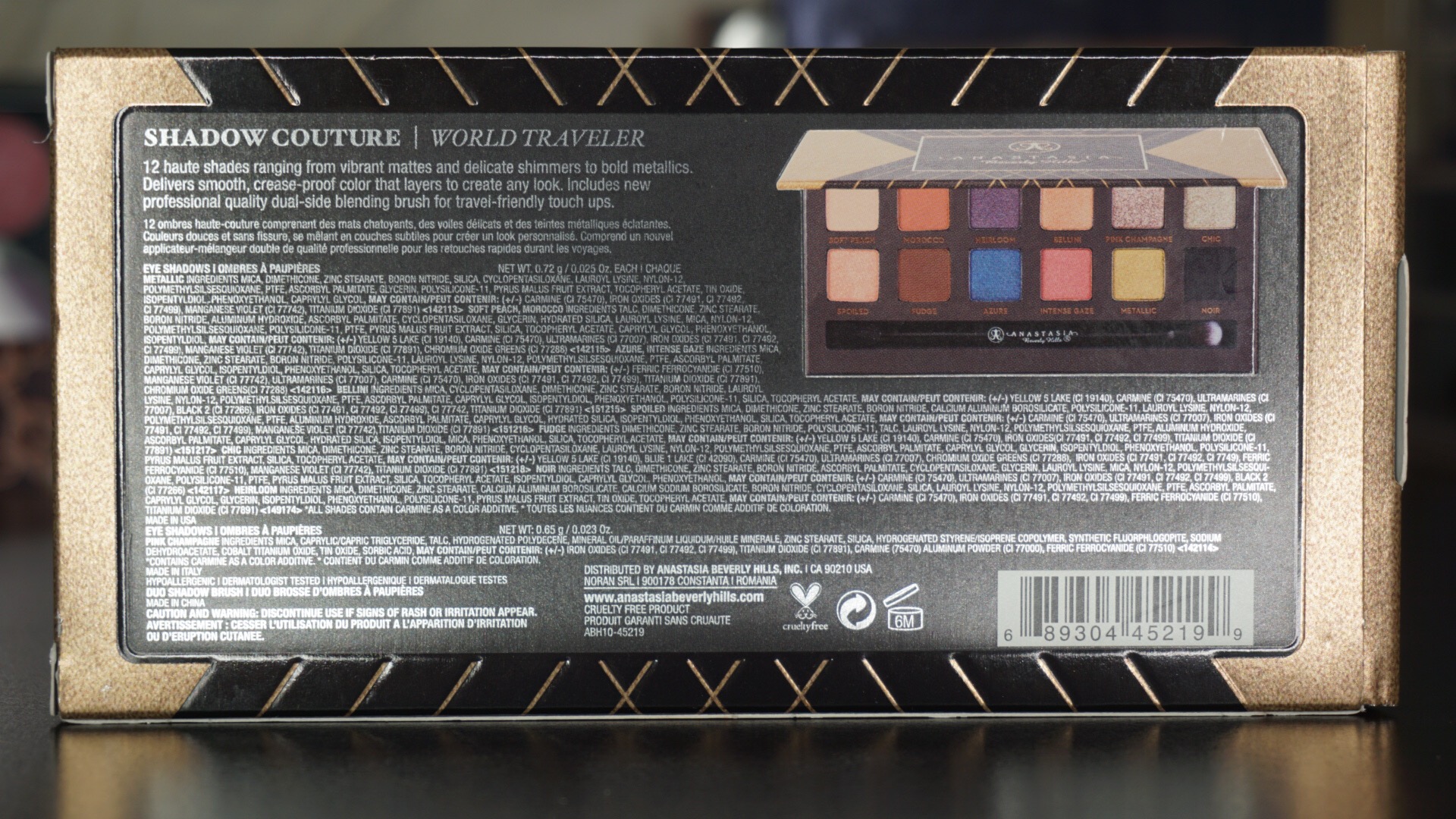 The palette is visually appealing to someone like me because it has a nice brown transition shades (Morocco, Fudge) that look great on darker complexions, an array of beautiful lid shades and a black shade (Noir) for darkening. These aspects of the palette make it a one stop shop for quite a few looks, from Dramatic to Natural Glam.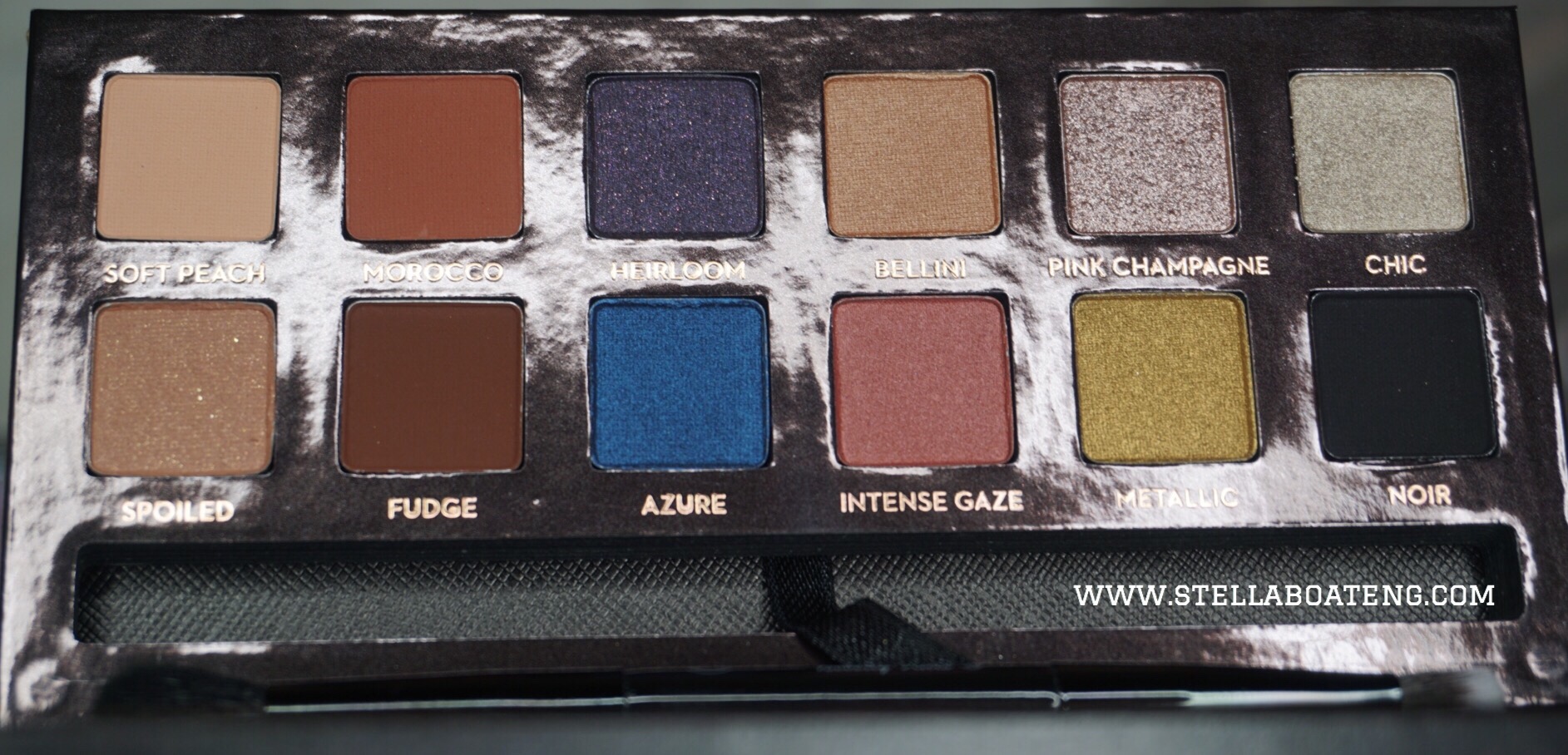 Lets get into the description of the shades in the Palette and their different finishes.

From Left to Right
Soft Peach – Nude pastel peach with an ultra-matte finish.
Morocco – Deep burnt orange with an ultra-matte finish. (Also seen in the Amrezy Palette by ABH)
Heirloom – Pinky eggplant with a sparkle finish.
Bellini – Golden peach with a satin finish.
Pink Champagne – Shimmery pink with a titanium finish.
Chic – Taupe gray with a shimmer finish.

From Left to Right
Spoiled – Gold-flecked peach with a metallic finish.
Fudge – Rich, chocolate brown with an ultra-matte finish.
Azure – Vibrant blue with a metallic finish.
Intense Gaze – Bronzed pink with a satin finish.
Metallic – Brassy gold with a metallic finish.
Noir – Deep carbon black with an ultra-matte finish. (Also seen in the Tamanna Palette by ABH)
My Review of each shade: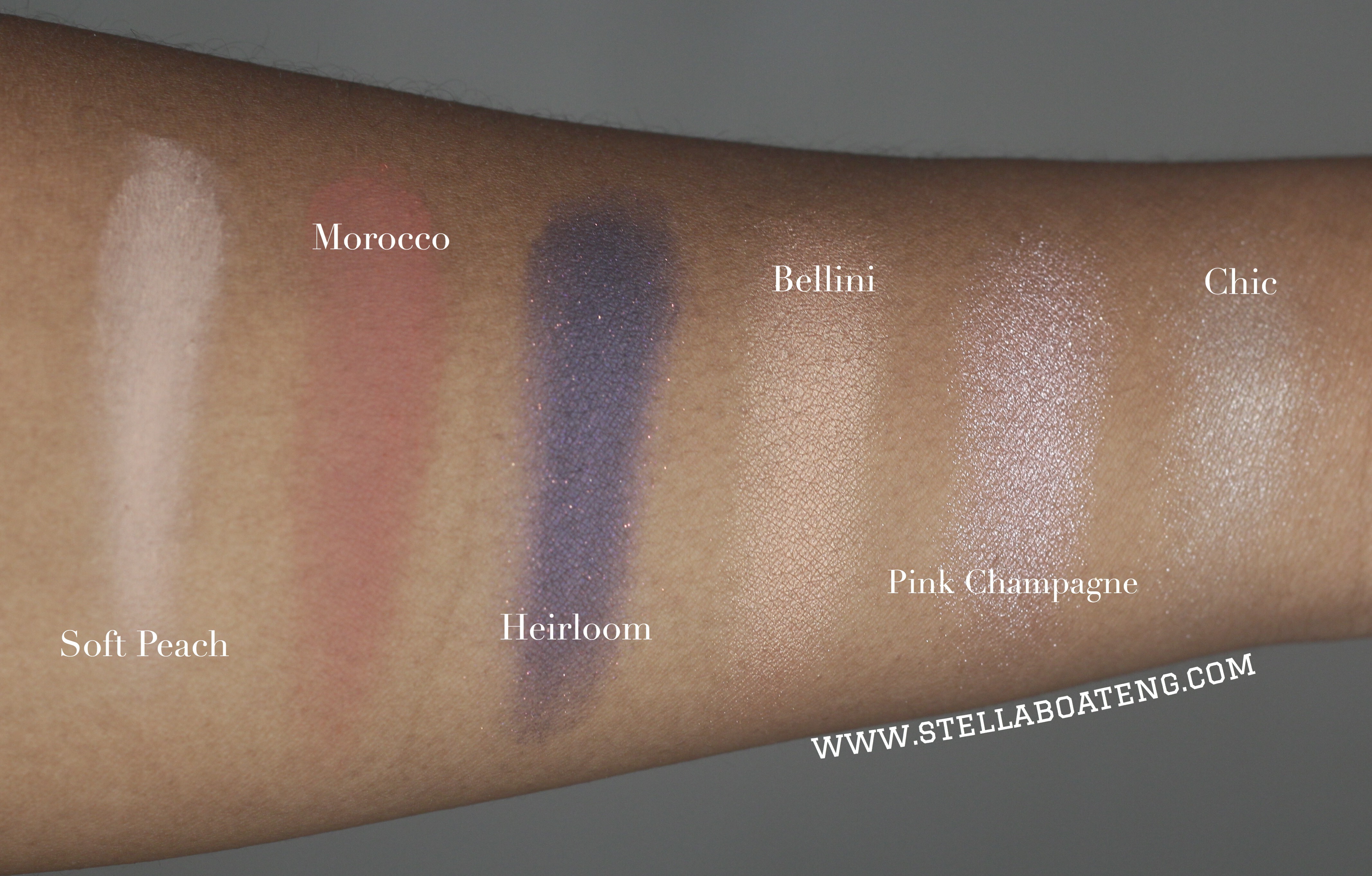 Soft Peach is a nicely pigmented matte pastel peachy nude color. It works nicely to highlight the brow bone or over the entire lid space to help the other eyeshadows blend easier. Its a nice shade which will work well as a lid color in a simple neutral makeup look.
Morocco is one of my favorite colors from Anastasia. Ever since the day Morocco and I discovered each other in the ABH Amrezy palette, we knew our bond would stand the test of time. As a woman of color, my favorite transition shades are those with orange, red or brown undertones. Morocco, a burnt orange matte shade falls directly in my range of perfect transition shades. I love the formulation of Morocco , it is not a patchy matte shade, it goes on very smooth.
Heirloom is an eggplant purple with pink shimmer/glitter flecks. The formula of this shadow is stiff, it does not glide on the eyelids as smoothly as the others in this palette. I find that this color can be a bit tricky to work with. I would recommend placing a base on your eyes prior to applying this eyeshadow. If you would like the purple to be very vibrant, consider using a white or purple base. NYX Cosmetics Jumbo Eye pencils are great eyeshadow bases.
Bellini is a nice peachy golden color that works beautifully on the lids for a beautiful natural look! This is one of my favorite shades in this palette. It is not overly shimmery which makes is perfect for any daytime makeup look.
Pink Champagne is the most hyped color in this palette, even prior to its release. I don't find this color to be all that its been hyped up to be. I have seen a lot of people use pink champagne as a nice lid shade but the color does not transfer nicely on my lids. The formula of this specific shade leans a lot more on the wet side. With all that said, Pink Champagne is a great color to put on top of any other eyeshadow for added shimmery effect. I know the single pan version of this eyeshadow has been sold out for quite some time, so if you have been waiting for Pink Champagne to come back in stock this palette will definitely be a must have for you. The texture of this shade reminds me of ColourPop eye shadows but the Anastasia's formula is smoother.
Chic is definitely one on the disappointing colors in this palette, it does not do much on darker complexions such as mine. In the pan, it appears to be a taupe gray color with a slightly green undertone; unfortunately when swatched it comes of as an off white/gray shimmer shade. I'm still working on figuring out the best use for this shade, I will update the blog with any new discoveries or magical unicorn revelations I find in "Chic".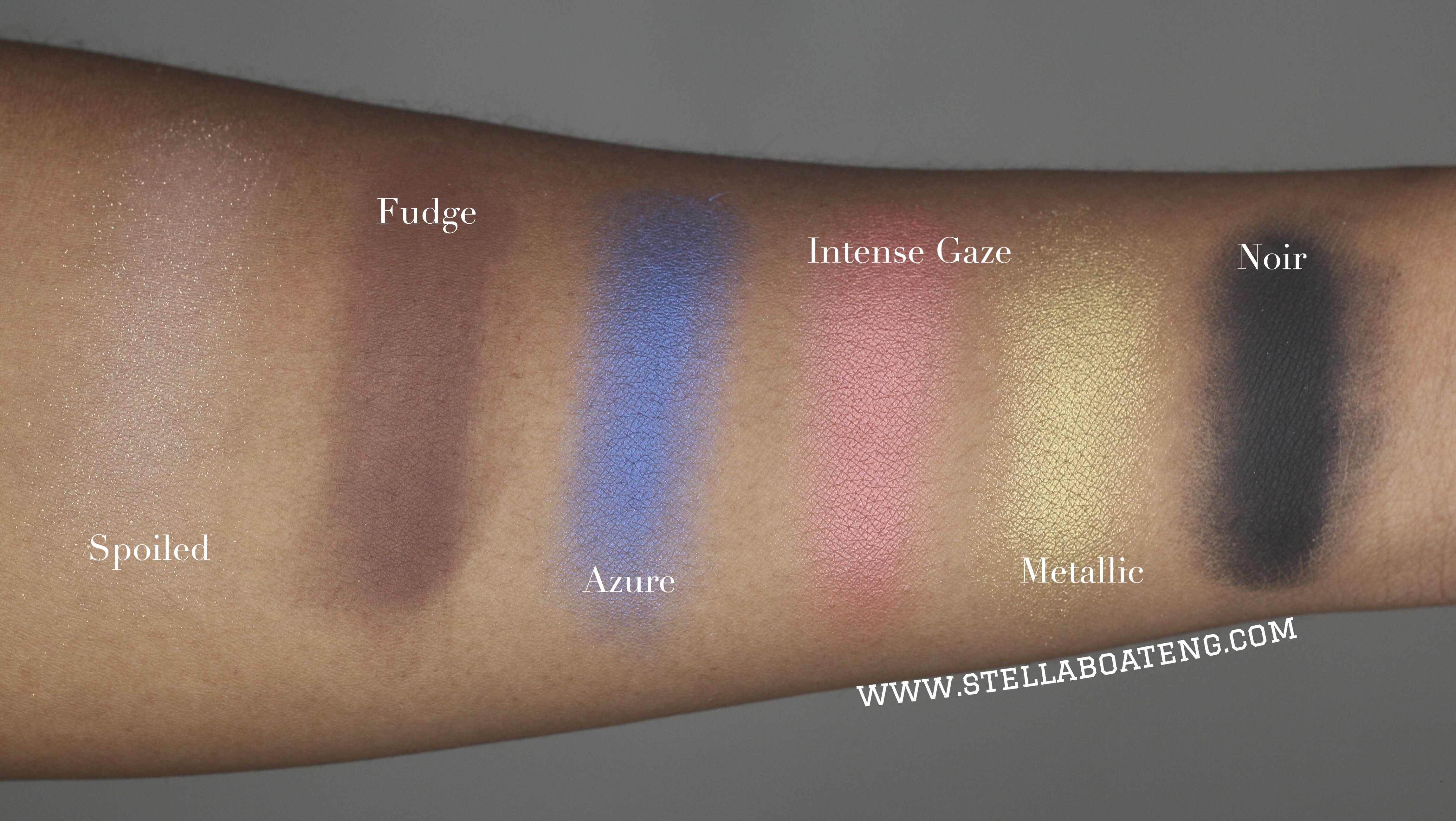 Spoiled is another disappointing shade in this palette for my skin tone. It does absolutely nothing for me on my lids, very light faint wash of color.
Fudge is a beautiful rich chocolate brown color with a very matte finish. It is a very nice transition shade for smokey eyes. The one thing I dislike about this shade is how dry the formula is and how patchy it tends to apply. But I have found that when I use an eyeshadow such as Soft Peach as a base all over the eyelid, every shadow I place on top glides on a lot smoother.
Azure is a vibrant blue with a beautiful metallic finish. It works as a great lid shade for blue night time smokey eyes or pop of color day time looks. This color looks great with a base I recommend using a base to help the vibrancy of the blue transfer on your lids.
Intense Gaze is a nice pinky lid shade, it reminds me of "Sangria" from the Tamanna Palette also by Anastasia. Sangria leans more on the red side of the color spectrum. Intense Gaze makes a beautiful subtle lid shade.
Metallic is one of the colors I was very excited about. It is a brassy gold color with green undertones. It looks nice on the lid.
Noir Is the blackest of all black eyeshadows I have seen. It is the perfect matte black eyeshadow. The shadow is very pigmented so I recommend using small amounts at a time to build the intensity you want. Noir is definitely a must have.
My Final Thoughts
If you have never purchased an Anastasia palette or tried her eyeshadows, I think you will definitely enjoy this palette. It has a nice array of the different finishes Anastasia has to offer. Some of the eyeshadows are hits and others are misses, I'm sure you can tell from the swatches above. On the other hand, if you are like me and you have a few Anastasia palettes in your arsenal this palette is not really a must have in terms of the eyeshadows inside but this packaging though… I love it!

The Palette is available for purchase here
Thanks for checking out my Blog
Don't forget to sign up for updates!
Stella <3
https://youtu.be/-7p_0MYewrU